2019 May article on uti.is
In August 2017, French prosecutors lost their criminal case against ex Landsbanki chairman of the board Björgólfur Guðmundsson* and eight former employees of Landsbanki Luxembourg. These nine were charged in relation to the bank's equity release loans. The prosecution won an appeal and the case is now in court again at Palais de Justice, expected to run into June.
Over the last few decades, equity release loans have wrecked havoc for borrowers in many countries. Like FX loans (see Icelog here), they have been a wandering financial curse. When circumstances change, bankers claim they could not have known – a hollow claim given the history of these loans.
The Landsbanki equity release lending saga has now been running for over a decade, closely followed on Icelog for the last few years (an overview here; link to earlier coverage here). This is a saga in three chapters:
1 The Landsbanki Luxembourg lending – how the loans were sold (an interesting aspect, given that banks all over Europe have lost FX lending cases due to EU consumer directives); the (unrealistically high?) evaluation of the properties used as collaterals; was there ever a viable plan in place in the bank to properly invest that part of the loan that was suppose to pay for the payout part; how credible and trustworthy was the bank's information to customers? Given that Landsbanki was in dire straits when it started selling these loans it is also of interest what the bank's purpose was with the loans: just another financial product or a product to save the bank? – This chapter is part of the criminal case in Paris.
2 The administration of Landsbanki Luxembourg has raised many and serious questions that Luxembourg authorities have so far been utterly unwilling to consider. The administrator, Yvette Hamilius, accuses the borrowers of simply trying to avoid paying. In 2012, the Luxembourg prosecutor Robert Biever issued a statement in her favour, without ever having investigated the case; an interesting if scary example of how the justice operates in the Duchy that depends on banking for its good life. – However, as earlier recounted on Icelog, the borrowers have a very different story to tell, of misleading and conflicting information on their loans and then an unwillingness on behalf of the administrator to engage with them and answer their questions. – Interestingly, Landsbanki Luxembourg has recently been losing in civil cases in Spain where equity release borrowers have brought the estate to court, mainly on the ground of consumer protection (see ERVA for various moves in Spain).
3 The sole creditor to Landsbanki Luxembourg is LBI., the estate of the failed Landsbanki Iceland. LBI has no direct control over Landsbanki Luxembourg but as seen from its webpage, it follows the case closely. The assets in Luxembourg are now the only assets left for LBI to distribute to its creditors. The question is if the administrator's hard line against the borrowers, with the accruing legal cost and the clock ticking in eternity, really is in the interest of Landsbanki Luxembourg's sole creditor.
This time there is a formidable presence on the borrowers' legal team. Originally Norwegian, Eva Joly studied law in France. She was appointed an investigative judge in the early 1990s, famous for taking on the great and the not so good in major corruption case, where dozens of people, who never expected to see the inside of a prison cell, ended up just there. Joly, an MEP since 2006, cooperates with her daughter, Caroline, also a lawyer.
It remains to be seen how things progress this time in the Paris court room at the grandiose Palais de Justice.
*Together with his son Thor Björgólfsson, Björgólfur Guðmundsson was the largest shareholder of Landsbanki; father and son owned just over 40% of the bank but in reality, controlled over 50% of the bank since ca. 10% of the bank's shares were in several offshore companies, controlled by the bank itself. This is one the many things exposed by the 2010 report by the Icelandic Special Investigative Commission. Guðmundsson was declared bankrupt following the banking collapse, his son is still one of the wealthiest people on this planet.
Follow me on Twitter for running updates.
2018 July article
The Icelandic SIC report and court cases in Iceland have made it abundantly clear that most of the questionable, and in some cases criminal, deals in the Icelandic banks were executed in their Luxembourg subsidiaries. All this is well known to authorities in Luxembourg who have kindly assisted Icelandic counterparts in obtaining evidence. One story, the Landsbanki Luxembourg equity release loans, still raises many questions, which Luxemburg authorities do their best to ignore in spite of a promised investigation in 2013. Some of these questions relate to the activities of the bank's liquidator, ranging from consumer protection, the bank's investment in the bank's own bonds on behalf of clients and if the bank set up offshore companies for clients without their consent.
The Landsbanki Luxembourg equity release loans were issued to clients in France and Spain. Indeed, all these loans were issued to clients outside of Luxembourg. One intriguing fact emerged during the French trial in Paris last year against Landsbanki Luxembourg and nine of its executives and advisors: the French clients got the bank's loan documents in English, the non-French clients got theirs in French.*
Landsbanki Iceland went into administration October 7 2008. The next day, Landsbanki Luxembourg was placed into moratorium; liquidation proceedings started 12 December. Over the years, Icelog has raised various issues regarding the Landsbanki Luxembourg equity release loans, mostly sold to elderly people (see here). These issues firstly relate to how the bank handled these loans, both the marketing and the investments involved and secondly, how the liquidator Yvette Hamilius, has handled the Landsbanki Luxembourg estate and the many complaints raised by the equity release clients.
A liquidator is an independent agent with great authority to investigate. There is abundant material in Iceland, both from the 2010 Report of the Special Investigative Commission, SIC and Icelandic court cases where almost thirty bankers and others close to the banks have been sentenced to prison. These cases have invariably shown that the most dubious deals were done in the banks' Luxembourg operations.
Already by June 2015, liquidators of the estates of the three large Icelandic banks were ending their work, handing remaining assets over to creditors. In the, in comparison, tiny estate of Landsbanki Luxembourg there is no end in sight due to various legal proceedings. Yet, its arguably largest problem, the so-calledAvens bond, was solved already in 2011. At the time, Már Guðmundsson governor of the Icelandic Central Bank paid tribute to the help received from amongst others Hamiliusfor "considerable efforts in leading this issue to a successful conclusion."
The Landsbanki Luxembourg equity release clients have another story to tell, both in terms of their contacts with the liquidator and Luxembourg authorities. In May 2012, these clients, who to begin with had each and everyone been struggling individually, had formed an action group and aired their complaints in a press release, questioning Luxembourg's moral standing and Hamilius' procedures.
The following day, the group got an unexpected answer: Luxembourg State Prosecutor Robert Biever issued a press release. As I mentioned at the time, it was jaw-droppingly remarkable that a State Prosecutor saw it as his remit to address a press release directed at the liquidator of a private company in a case the Prosecutor had not investigated. According to Biever, Hamilius had offered the borrowers "an extremely favourable settlement" but "a small number of borrowers," unwilling to pay, was behind the action.
In 2013 Luxembourg Justice Minister promised an investigation into the Landsbanki products that was already taking "great strides." So far, no news.
The Landsbanki Luxembourg equity release scheme: high risk, rambling investments
In theory, the magic of equity release loans is that by investing around 75% of the loan the dividend will pay off the loan in due course. I have seen calculations of some of the Landsbanki equity release loans that make it doubtful that even with decent investments, the needed level of dividend could have been reached – the cost was simply too high.
If something seems too good to be true it generally is. However, this offer came not from a dingy backstreet firm but from a bank regulated and supervised in Luxembourg, a country proud to be the financial centre of Europe. And Landsbanki was not the only bank offering these loans, which interestingly have long ago been banned or greatly limited in other countries. In the UK, equity release loans wrecked havoc and created misery some decades ago, leading to a ban on putting up the borrower's home as collateral.
Having scrutinised the investments made for some of the Landsbanki Luxembourg clients the first striking thing is an absolutely staggering foreign currency risk, also related to the Icelandic króna. Underlying bonds on the foreign entities such as Rabobank and European Investment Bank were nominated in Icelandic króna (see here on Rabobank ISK bond issue Jan. 2008), in addition to the bonds of Kaupthing and Landsbanki, the largest and second largest Icelandic banks at the time.
Currencies were bought and sold, again a strategy that will have generated fees for the bank but was of dubious use to the clients.
The second thing to notice is the rudderless investment strategy. To begin with the money was in term deposits, i.e. held for a fixed amount of time, which would generate slightly higher interest rates than non-term deposits. Then shares and bonds were bought but there was no apparent strategy except buying and selling, again generating fees for the bank.
The equity release clients were normally not keen on risk but the investments were partially high risk. The 2007 and 2008 losses on some accounts I have looked have ranged from 10% to 12%. These were certainly testing years in terms of investment but amid apparently confused investing there was indeed one clear pattern.
One clear investment pattern: investing in Landsbanki and Kaupthing bonds
Having analysed statements of four clients there is a recurring pattern, also confirmed by other clients and a source with close knowledge of the bank's investments: in 2008 (and earlier) Landsbanki Luxembourg invariably bought Landsbanki bonds as an investment for clients, thus turning the bank's lending into its own finance vehicle. In addition, it also bought Kaupthing bonds. The 2010 SIC report cites examples of how the banks cooperated to mitigate risk for each other.
It is not just in hindsight that buying Landsbanki and Kaupthing bonds as equity release investment was a doomed strategy. Both banks had sky-high risk as shown by their credit default swap, CDS. The CDS are sort of thermometer for banks indicating their health, i.e. how the market estimates their default risk.
The CDS spread for both banks had for years been well below 100 points but started to rise ominously in 2007 as the risk of their default was perceived to rise. At the beginning of 2008, the CDS spread for Landsbanki was around 150 points and 300 points for Kaupthing. By summer, Kaupthing's CDS spread was at staggering 1000 points, then falling to 800 points. Landsbanki topped close to 700 points. The unsustainably high CDS spread for these two banks indicated that the market had little faith in their survival. With these spreads, the banks had little chance of seeking funds from institutional investors (SIC Report, p.19-20).
The red lights were blinking and yet, Landsbanki Luxembourg staff kept on steadily buying Landsbanki and Kaupthing bonds on behalf of clients who were clearly risk-averse investors.
Equity release investment in some details
To give an idea of the investments Landsbanki Luxembourg made for equity release borrowers, here is some examples of investment (not a complete overview) for one client, Client A:
Loan of €2.1m in January 2008; the loan was split in two, each half converted into Swiss francs and Japanese yens. The first investment, €1.4m, two thirds of the loan,was in LLIF Balanced Fund (in Landsbanki Luxembourg loan documents the term used is Landsbanki Invest. Balanced Fund 1 Cap but in later overviews from the liquidator it is called LLIF Balanced Fund, a fund named in Landsbanki's Financial Statements 2007 as one of the bank's investment funds).
Already in February 2008 Landsbanki Luxembourg bought Kaupthing bond for this client for €96.000. End of April 2008 €155.000 was invested in Landsbanki bond, days before €796.000 of the LLIF Balanced Fund investment was sold. Late May and end of August Landsbanki bonds were bought, in both cases for around €99.000. In early September 2008 Landsbanki invested $185.000 in Kaupthing bonds for this client. The next day, the bank sold €520.000 in LLIF Balanced Fund.
Landsbanki's investments were focused on the financial sector that in 2008 was showing disastrous results. For client A the bank bought bonds in Nykredit, Rabobank, IBRD and EIB, apparently all denominated in Icelandic króna. In addition, there were shares in Hennes & Maurits, and a Swedish company selling food supplement.
A similar pattern can be seen for the other clients: funds were to begin with consistently invested in LLIF Balanced Fund but later sold in favour of Kaupthing and Landsbanki bonds. Although investment funds set up by the Icelandic banks were later shown to contain shares in many of the ill-fated holding companies owned by the banks' largest shareholders – also the banks' largest borrowers – a balanced fund should have been seen as a safer investment than bonds of banks with sky-high CDS spreads.
MiFID and the Landsbanki Luxembourg equity release loans
Landsbanki certainly did not invent equity release loans. These loans have been around for decades. Much like foreign currency, FX, loans, a topic extensively covered by Icelog, they have brought misery to many families, in this case mostly elderly people. FX lending has greatly diminished in Europe, also because banks have been losing in court against FX borrowers for breaking laws on consumer protection.
There might actually be a case for considering the equity release loans as FX loans since the loans, taken in euros, were on a regular basis converted into other currencies, as mentioned above. – This is, so far, an unexplored angle of these cases that Luxembourg authorities have refused to consider.
Another legal aspect is that the first investments were normally done before the loans had been registered with a notary, as is legally required in France.
The European MiFID, Markets in Financial Instruments Directive was implemented in Luxembourg and elsewhere in the EU in 2007. The purpose was to increase investor protection and competition in financial markets.
Consequently, Landsbanki Luxembourg was, as other banks in the EU, operating under these rules in 2007. It is safe to say, that the bank was far below the standard expected by the MiFID in informing its clients on the risk of equity release loans.
The following paragraph was attached to Landsbanki Luxembourg statements: "In the event of discrepancies or queries, please contact us within 30 days as stipulated in our "General Terms and Conditions."– However, the bank almost routinely sent notices of trades after the thirty days had passed.
It is unclear if the liquidator has paid any attention to these issues but from the communication Hamilius has had with the equity release clients there is nothing to indicate that she has investigated Landsbanki operations compliance with the MiFID. MiFID compliance is even more important given that courts have been turning against equity release lenders in Spain due to lack of consumer protection – and that banks have been losing in courts all over Europe in FX lending cases.
Clients offshorised without their knowledge
The "Panama Papers" revealed that Landsbanki was one of the largest clients of law firm Mossack Fonseca; it was Landsbanki's go-to firm for setting up offshore companies. Kaupthing, no less diligent in offshoring clients, had its own offshore providers so the leak revealed little regarding Kaupthing's offshore operations. The prime minister of Iceland Sigmundur Davíð Gunnlaugsson, who together with his wife owned a Mossack Fonseca offshore company, became the main story of the leak and resigned less than 48 hours after the international exposure.
In September 2008, a Landsbanki Luxembourg client got an email from the bank with documents related to setting up a Panama company, X. The client was asked to fill in the documents, one of them Power of Attorney for the bank and return them to the bank. The client had never asked for this service and neither signed nor sent anything back.
In May 2009, this client got a letter from Hamilius, informing him that the agreement with company X was being terminated since Landsbanki was in liquidation. The client was asked to sign a waiver and a transfer of funds. Attached was an invoice from Mossack Fonseca of $830 for the client to pay. When the client contacted the liquidator's office in Luxembourg he was told he should not be in possession of these documents and they should either be returned or destroyed. Needless to say, the client kept the documents.
Company X is in the Offshoreleak database, shown as being owned by Landsbanki and four unnamed holders of bearer shares. – Widely used in offshore companies, bearer shares are a common way of hiding beneficial ownership. Though not a proof of money laundering, the Financial Action Task Force, FATF, considers bearer shares to be one of the characteristics of money laundering.
This shows that Landbanki Luxembourg set up a Panama company in the name of this client although the client did not sign any of the necessary documents needed to set it up. Also, that the liquidator's office knew of this. (This account is based on the September 2009 email from Landsbanki Luxembourg to the client and a statement from the client).
Other clients I have heard from were offered offshore companies but refused. The story of company X only came out because of the information mistakenly sent from the liquidator to the client.
Landsbanki Luxembourg clients now wonder if companies were indeed set up in their names, if their funds were sent there and if so, what became of these funds. This has led them to attempt legal action in Luxembourg against the liquidator. Only the liquidator will know if it was a common practice in Landsbank Luxembourg to set up offshore companies without clients' consent, if money were moved there and if so, what happened to these funds.
The curious role of a certain Philomène Ruberto
Invariably, the equity release loans in France and Spain were not sold directly by Landsbanki Luxembourg but through agents. This is another parallel to FX lending characterised by this pattern. According to the Austrian Central Bank this practice increases the FX borrowing risk as agents are paid for each loan and have no incentive to inform the client properly of the risks involved.
One of the agents operating in France was a French lady, Philomène Ruberto. In 2011, well after the collapse of Landsbanki, the Landsbanki Luxembourg was putting great pressure on the equity release borrowers to repay the loans. At this time, Ruberto contacted some of the clients in France. Claiming she was herself a victim of the bank, she offered to help the clients repay their loans by brokering a loan through her own offshore company linked to a Swiss bank, Falcon Private Bank, now one of several banks caught up in the Malaysian 1MDB fraud.
Some clients accepted the offer but that whole operation ended in court, where the clients accused Ruberto of fraud and breach of trust. In a civil case judgement at the Cour d'appel d'Aix en Provence in spring 2013, the judge listed a series of Ruberto's earlier offenses, committed before and during the time she acted as an agent for Landsbanki: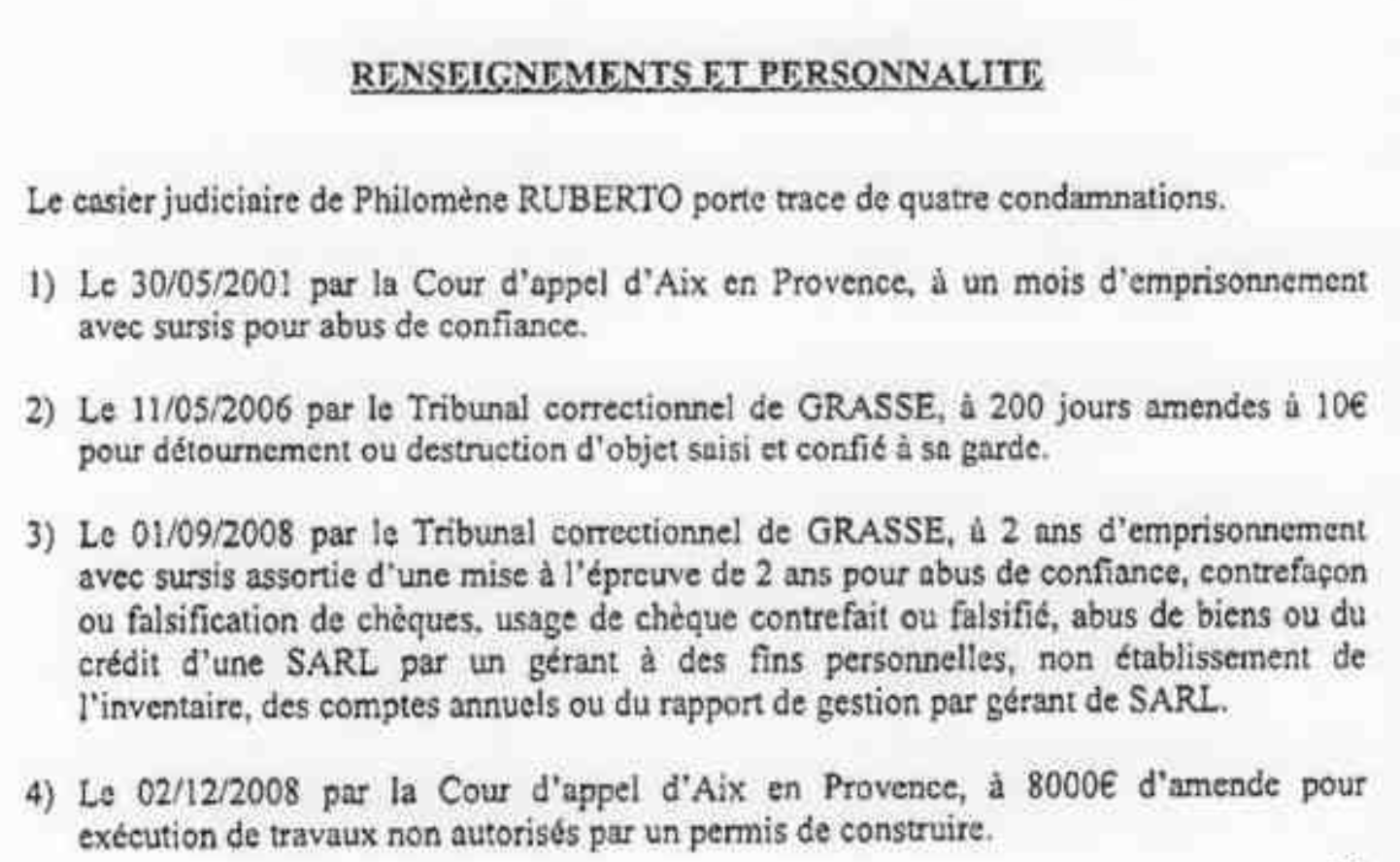 This case was sent on a prosecutor. In a penal case in autumn 2014 Ruberto was sentenced by Tribunal Correctionnel de Grasse to 36 months imprisonment, a fine of €15,000 in addition to the around €190,000 she was ordered to pay the civil parties. According to the 2104 judgement Ruberto was, at the time of that case, detained for other causes, indicating that she has been a serial financial fraud offender since 2001.
But Ruberto's relationship with Landsbanki Luxembourg prior to the bank's collapse has a further intriguing dimension: GD Invest, a company owned by Ruberto and frequently figuring in documents related to her services, was indeed also one of Landsbanki Luxembourg largest borrowers. The SIC Report (p.196) lists Ruberto's company, GD Invest, as one of the bank's 20 largest borrowers, with a loan of €5,4m.
In 2007, at the time Ruberto was acting as an agent in France for Landsbanki Luxembourg, she not only borrowed considerably funds but, allegedly, on very favourable terms. In March 2007, GD Invest borrowed €2,7m and then further €2.3m in August 2007, in total almost €5,1m. Allegedly, Ruberto invested €3m in properties pledged to Landsbanki but the remaining €2m were a private loan. It is not clear what or if there was a collateral for that part.
By the end of 2011, Ruberto's debt to Landsbanki Luxembourg was in total allegedly €7,5m. In January 2012 it is alleged that the Landsbanki Luxembourg liquidator made her an offer of repaying €2,4m of the total debt, around 1/3 of the total debt. Ruberto's track record of fraudulent behaviour from 2001, raises questions to her ties first to Landsbanki and then to Landsbanki Luxembourg liquidator. (The overview of Ruberto's role is based on emails and court documents provided by Landsbanki Luxembourg equity release borrowers.)
Inconsistent information from the Landsbanki Luxembourg liquidator
From 2012, when I first heard from Landsbanki Luxembourg equity release borrowers, inconsistent information from the liquidator has been a consistent complaint. The liquidator had then been, and still is, demanding repayment of sums the clients do not recognise. There are also examples of the liquidator coming up with different figures not only explained by interest rates. The borrowers have been unwilling to pay because there are too many inconsistencies and too many questions unanswered.
As mentioned above, Landsbanki Luxembourg was put in suspension of payment, in October 2008 and then into administration in December 2008. As far as is known, people who later took over the liquidation were called on to work at the bank during this time. During this time, many clients were informed that their properties had fallen in value, meaning that the collateral for their loan, the property, was inadequate. Consequently, they should come up with funds. At this time, there was no rational for a drop in property value. This is one of the issues the borrowers have, so far unsuccessfully, tried to raise with the liquidator.
Other complaints relate to how much had been drawn. One example is a client who had, by October 2008, in total drawn €200,000. This is the sum this client want to repay. Mid October 2008, after Landsbanki Luxembourg had failed, this client got a letter from a Landsbanki employee stating that close to €550,000, that the client had earlier wanted transferred to a French account, was still "safe" on the Landsbanki account. This amount was never transferred but the liquidator later claimed it had been invested and demanded that the client repay it.
The liquidator has taken an adversarial stance towards these clients. The clients complain of lack of transparency, inconsistent information, lack of information and lack of will to meet with them to explain controversies.
The role and duty of a liquidator
By late 2009 the liquidator had sold off the investments. This is what liquidators often do: after all, their role is to liquidate assets and pay creditors. However, a liquidator also has the duty to scrutinise activity. That is for example what liquidators of the banks in Iceland have done. A liquidator is not defending the failed company but the interests of creditors, in this case the sole creditor, LBI ehf.
Incidentally, the liquidator has not only been adversarial to the clients of Landsbanki but also to staff. In 2011 the European Court of Justice ruled against the liquidator in reference for a preliminary ruling from the Luxembourg Cour du cassation brought by five employees related to termination of contract.
Liquidators have great investigative powers. In addition to documents, they can also call in former staff as witnesses to clarify certain acts and deeds. If this had been done systematically the things outlined above would be easy to ascertain such as: is it proper in Luxembourg that a bank systematically invests clients' funds in the bank's own bonds? Was the investment strategy sound – or was there even a strategy? Were clients' funds systematically moved offshore without their knowledge? If so, was that done only to generate fees for the bank or were there some ulterior motives? And have these funds been accounted for? A liquidator can take into account the circumstances of the lending and settle with clients accordingly.
And how about informing the State Prosecutor of Landsbanki's investments on behalf of clients in Landsbanki bonds and the offshoring of clients without their knowledge?
But having liquidators in Luxembourg asking probing questions and conducting investigations is possibly not cherished by Luxembourg regulators and prosecutors, given that the country's phenomenal wealth is partly based on exactly the kind of dirty deals seen in the Icelandic banks in Luxembourg.
LBI ehf – the only creditor to Landsbanki Luxembourg
Landsbanki Luxembourg has only one creditor – the LBI ehf, the estate of the old Landsbanki Iceland. According to the LBI 2017 Financial Statements the expected recovery of the Landsbanki Luxembourg amounts to €84,3m, compared to €74,3m estimated last year. The increase is following what LBI sees as a "favourable ruling by the Criminal Court in Paris on 28 August 2017," i.e. that all those charged were acquitted.
The only assets in Landsbanki Luxembourg are the equity release loans. The breakdown of the loans, in EUR millions, in the LBI 2017 Statements is the following:

Further to this the Statements explain that "LBI's claims against the Landsbanki Luxembourg estate amounted to EUR 348.1 million, whereas the aggregate balance of outstanding equity release loans amounted to EUR 293.0 million with an estimated recoverable value … of EUR 84.3 million."
As pointed out, the information "regarding legal matters pertaining to the Landsbanki Luxembourg estate is mainly based on communications from that estate's liquidator, and not all of such information has been independently verified by LBI management."
Apart from the criminal action in Paris and the appeal of the August 2017 judgment, the Financial Statements mention other legal proceedings: "Landsbanki Luxembourg is also subject to criminal complaints and civil proceedings in Spain. … In November 2012, several customers in France and Spain brought a criminal complaint in Luxembourg against the liquidator, alleging that the former activities of Landsbanki Luxembourg are criminal and thus that the estate's liquidator should be convicted for money laundering by trying to execute the mortgages. Other criminal complaints have been filed in Luxembourg in 2016 and 2017 based on the same grounds against the liquidator personally."
This all means that "LBI's presented estimated recovery numbers are subject to great uncertainty, both in timing and amount."
What is Luxembourg doing?
It is not the first time I ask this question here on Icelog. In July 2013 there was the news from Luxembourg, according to the Luxembourg paper Wort, that there were two investigations on-going in Luxembourg related to Landsbanki. This surfaced in the Luxembourg parliament as the Justice Minister Octavie Modert responded to a parliamentary question from Serge Wilmes, from the centre right CSV, Luxembourg's largest party since founded in 1944.
According to Modert both cases related to alleged criminal conduct in the Icelandic banks. One investigation was into financial products sold by Landsbanki. "…the deciding judge is making great strides," she said, adding that in order not to jeopardize the investigation, the State Attorney was unable to provide further details on the results already achieved."
Sadly, nothing further has been heard of this investigation.
In spring 2016 the Luxembourg financial regulator, Commission de surveillance du secteur financier, CSSF had set up a new office to protect the interests of depositors and investors. This might have been good news, given the tortuous path of the Landsbanki Luxembourg clients to having their case heard in Luxembourg – CSSF has so far been utterly unwilling to consider their case.
The person chosen to be in charge is Karin Guillaume, the magistrate who ruled on the Landsbanki Luxembourg liquidation in December 2008. As pointed out in PaperJam, Guillaume has been under a barrage of criticism from the Landsbanki clients due to her handling of their case, which somewhat undermines the no doubt good intentions of the CSSF. From the perspective of the Landsbanki Luxembourg clients, CSSF has chosen a person with a proven track record of ignoring the interests of depositors and investors.
So far, Luxembourg authorities have resolutely avoided investigating Landsbanki and the other Icelandic banks. In Iceland almost 30 bankers, also from Landsbanki, and others close to the banks have been sentenced to prison, up to six years in some cases (changes to Icelandic law on imprisonment some years ago mean that those sentenced serve less than half of that time in prison before moving to half-way house and then home; they are however electronically tagged and can't leave the country until the time of the sentence is over).
In the CSSF 2012 Annual Report its Director General Jean Guill wrote:
During the year under review, the CSSF focused heavily on the importance of the professionalism, integrity and transparency of the financial players. It urged banks and investment firms to sign the ICMA Charter of Quality on the private portfolio management, so that clients of these institutions as well as their managers and employees realise that a Luxembourg financial professional cannot participate in doubtful matters, on behalf of its clients.  
Almost ten years after the collapse of Landsbanki, equity release clients of Landsbanki Luxembourg are still waiting for the promised investigation, wondering why the liquidator is so keen to soldier on for a bank that certainly did participate in doubtful matters.
*In court, the French singer Enrico Macias mentioned that all his documents were in English. I found this strange since I had seen documents in French from other clients and knew there was a French documentation available. When I asked Landsbanki Luxembourg clients this pattern emerged. All the clients asked for contracts in their own language. When the non-French clients asked for contracts in English they were told the documentation had to be in French as the contracts were operated in France. Conversely, the French were told that the language was English as it was an English scheme. I have now seen this consistent pattern on documents for the various clients. – Here is a link to all Icelog blogs, going back to 2012, related to the equity release loans. Here is a link to the Landsbanki Luxembourg victims' website.
A whole new type of court cases is emerging in Iceland: shareholders are suing in civil cases for damages suffered as the collapse of Landsbanki and Kaupthing wiped out their shareholdings. Three recent Supreme Court decisions have paved the way for class action against Landsbanki's largest shareholder, Björgólfur Thor Björgólfsson, to test if he was responsible for shareholders' losses as the bank collapsed 7 October 2008. Those behind the Landsbanki class action intend to sue Kaupthing's managers for the same reason, i.e. financial losses, based on a criminal case where nine Kaupthing managers have already been sentenced for market manipulation.
"Around thirty men are to blame for the banking collapse" – this is how Vilhjálmur Bjarnason, now member of Alþingi for the Independence party, dramatically described the situation a few weeks after Iceland's three largest banks failed one after the other from 6 to 8 October 2008.
Bjarnason was himself one of tens of thousands of Icelanders who owned small shareholdings in the Icelandic banks, worthless after these October days in 2008. Some years ago, he was one of the instigators in setting up a group to test if damages could possibly be sought through class action.
Class action – a novelty in Icelandic courts
Nothing like that had ever been tried in Iceland and the path has proven tortuous. Last year, the Reykjavík District Court dismissed the case. The Supreme Court confirmed that decision but at the same time gave the group a direction to test: the Supreme Court pointed out the group's diverse interests; after splitting the original group into three homogenous groups, according to when they bought the shares, the case was tried again. Again, the District Court threw the case out but the Supreme Court has now ordered the District Court to process the case.
This means that the three groups can now have their case tested.
The thrust of the case is that Björgólfur Thor Björgólfsson, as the bank's largest shareholder, withheld relevant information that should have been in the bank's annual accounts for 2005 and onwards. The information relates to loans to related partners, i.e. Björgólfsson and his father and also information regarding control over the bank. Had the shareholders been aware of this, they would not have wanted to invest in the bank.
A case built on the SIC report and witnesses
The case is partly built on the report of the Special Investigative Commission, SIC, published in 2010, which indeed recounts all of this. In addition, the group has sought documents and statements from witnesses in an earlier case, brought for the purpose of gathering evidence. If Björgólfsson will be found to have been in breach he will consequently be forced to pay damages to the shareholders behind the class action.
These attempts by the shareholders to sue Björgólfsson have been followed closely by the Icelandic media. Björgólfsson claims the action is utterly baseless and only a personal vendetta against him. One of the shareholders funding the action is Róbert Wessman, earlier CEO of Actavis. Shortly after Björgólfsson took over Actavis in 2007 Wessman left the company and founded his own generic pharmaceutical company. Wessman and Björgólfsson, who parted on bad terms, were for some years suing and counter-suing each other and as often reported in the Icelandic media there is no love lost between the two businessmen.
Kaupthing managers face action from the same shareholders
In October 2016, Sigurður Einarsson former chairman of Kaupthing, former CEO Hreiðar Már Sigurðsson and seven other Kaupthing managers were found guilty of market manipulation by the Supreme Court (see earlier Icelog). Since the managers have already been found guilty, the three groups behind the Landsbanki class action plan to sue Kaupthing managers personally for damages.
Who exactly will be sued is not clear but it seems highly likely that Einarsson and Sigurðsson will be among those sued.
*Here are the three recent Supreme Court decisions mentioned above: case447/2017, 448/2017, 449/2017.
Follow me on Twitter for running updates.
The long-winding saga of the Landsbanki Luxembourg equity release loans is now in a French court in Paris, i.e. the alleged mis-selling. However, as the oral hearings brought out so clearly, other angles of this case have been ignored, i.e. the bank's potential mismanagement of clients' funds and the very questionable handling of the Landsbanki Luxembourg administrator. These last two issues have left so many clients frustrated and at their wit's end.
A court case at the Palais de Justice, part of the spectacular Palais de la Cité on the Îsle de la Cité in the heart of Paris, is a grand spectacle to behold. Or at least that was my impression last week as I sat through two afternoons of oral hearing in the penal case against Landsbanki Luxembourg bankers and Landsbanki's chairman Björgólfur Guðmundsson, the only one of the accused who was not present.
Apart from the three judges and the prosecutor there were the thirty or so lawyers fluttering around in their black cloaks with white bands around the neck. The lawyers were defence lawyers for those charged, lawyers for some of the witnesses and then there were lawyers related to civil cases connected to this case.
The case, brought by a prosecutor after an investigation led by Justice Renaud van Ruymbeke, centres on alleged mis-selling of equity release loans, as explained in an earlier Icelog. Oral hearings are scheduled until May 24, but the hearings were taking longer than expected and extra days to be added. The judgement can be expected in autumn.
French borrowers got contract in English, foreigners in French
The involvement of the very famous French singer Enrico Macias in the Landsbanki Luxembourg case has secured the attention of the French media; Macias took out an equity release loan of around €35m and his losses amount to €9m.* On the first day of the oral hearings, 2 May, Macias sat in court surrounded by his black-cloaked lawyers. On the second day of the hearings when Macias was questioned I counted nine lawyers apparently part of his entourage.
Macias was questioned back and forth for ca. three hours, no mercy there for this elderly gentleman, by the very astute and sharp judge. Only at one point, when one of the defence lawyers had probed Macias' story did the singer lose his patience, crying out he had lost his wife and his house because of this bank. The judge reminded him that the charges were serious and the nine men accused had the right to defend themselves.
When Macias' contract was brought up during the questioning an interpreter was called to assist. It turned out that Macias' contract was in English. Some of the foreign borrowers were in court – German, English, American etc. It turns out that the foreign equity release borrowers all seem to have a contract in French. One told me he had asked for a contract in English and been told he would get it later; he didn't.
Intriguingly, there seems to be a pattern here as I heard when I spoke to other borrowers: Landsbanki Luxembourg gave the foreign borrowers, i.e. non-French, a contract in French but the French borrowers, like Macias, got a contract in English.
"Produit autofinancé"
Much of the questioning centred on the fact that Landsbanki Luxembourg promised the borrowers the loans were "auto-financed." To take an example: if the loan in total was for example €1m, the borrower got 20-30% paid out in cash and the bank invested the rest, stating the investment would pay for the loan. Ergo, Landsbanki promised the borrowers they would get a certain amount of cash for free, so to speak.
The judge asked the various witnesses time and again if that had not sounded to too good to be true to get a loan for free. As Macias and others pointed out the explanations given by the bankers and the brokers selling the loans seemed convincing. After all, these borrowers were not professionals in finance.
This line of questioning rests on the charges of alleged mis-selling. Other questions related to information given, who was present when the contracts were signed, validity of signatures etc.
The dirty deals in Luxembourg
The operations of the Icelandic banks have been carefully scrutinised in Iceland, first in the SIC report, published in April 2010 and later in the various criminal cases where Icelandic bankers and some of their closest collaborators have been prosecuted in Iceland.
There is one common denominator in all the worst cases of criminal conduct and/questionable dealings: they were conducted in and through Luxembourg.
All of this and all of these cases are well known to authorities in Luxembourg: Luxembourg authorities have assisted the investigations of the Icelandic Special Prosecutor, i.e. enabled the Prosecutor to gather information and documents in house searches in Luxembourg.
These cases exposing the role of Luxembourg in criminal conduct are all Icelandic but the conduct is not uniquely Icelandic. I would imagine that many financial crooks of this world have equally made use of Luxembourg enablers, i.e. bankers, lawyers and accountants, in financial shenanigans and crimes.
The Landsbanki questions Luxembourg has ignored
As I have pointed out earlier, alleged mis-selling is not the only impertinent question regarding the Landsbanki Luxembourg operations. There are also unanswered questions related to management of clients' fund by Landsbanki Luxembourg, i.e. the investment part of the equity release loans (and possibly other investments) and, how after the bank's collapse in October 2008, the bank's court appointed Luxembourg administrator Yvette Hamilius has fulfilled her role.
As to the management of funds, some borrowers have told me that after the collapse of Landsbanki Luxembourg they discovered that contrary to what they were told the bank had invested their funds in Landsbanki bonds and bonds of other Icelandic banks. This was even done when the clients had explicitly asked for non-risky investments. As far as is known, Luxembourg authorities have neither investigated this nor any of the Icelandic operations with one exception: one case regarding Kaupthing is being investigated in Luxembourg and might lead to charges.
The latter question refers to serious complaints by equity release borrowers as to how Hamilius has carried out her job. Figures and financial statements sent to the clients do not add up. Hamilius has given them mixed information as to what they owe the bank and kept them in the dark regarding the investment part of their loans. Icelog has seen various examples of this. Hamilius has allegedly refused to acknowledge them as creditors to the bank.
On the whole, her communication with the clients has been exceedingly poor, letters and calls ignored and she has been unwilling to meet with clients. One client, who did manage to get a meeting with her, was seriously told off for bringing his lawyer along even though he had earlier informed her the name of the person he would bring with him.
Hamilius, on the other hand, claims the clients are only trying to avoid paying their debt. She has tried to recover properties in Spain and France, even after the bankers were charged in France. One of many remarkable turns in this case (see here) was a press release issued Robert Biever Procureur Général d'Etat – nothing less than the Luxembourg State Prosecutor – in support of Hamilius in her warfare against the equity release clients.
The court case at the imposing Palais de Justice in Paris gives an interesting insight into the operations of Landsbanki Luxembourg. As to management of funds prior to the bank's collapse and the administrator's handling of her duties Luxembourg has, so far, only shown complete apathy.
*I picked these numbers during the hearings but French media has reported different figures so I can't certify these are the correct figures.
2nd May 2016
"Corruption and the role of tax havens" was the headline of the annual workshop of the Tax Justice Network – and the word Luxembourg was heard quite often there.
There were plenty of interesting talks, much to learn. Two things are still playing around in my head: an exchange on the offshore bubble inside, not outside, of our Western countries – and the destructive role of Luxembourg when it comes to both taxation and finance.
Offshore is actually onshore
I was on a panel today about "Stories of secrecy;" I gave a talk about "Iceland, the offshorisation of an economy" and Richard Smith from Naked Capitalism talkedabout the role of Scottish LPs in the Moldova bank robbery where $800 were syphoned off, into offshore companies. Nicholas Shaxson, author of "Treasure Islands," was the moderator.
Shaxson mentioned the increasing focus on financial stability and the offshore universe, something that is very clear when it comes to Iceland and events in autumn 2008 – the offshorisation did not alone cause the banking collapse but it played its role in hiding money, connections, ownership, debt and everything else that can be hidden offshore.
One image I have been toying with lately, in order to explain the dangerous effect of offshorisation, is that each Western country is like a balloon where law and order, civil society seems to permeate the whole balloon. However, at a closer look, the offshore is like a bubble inside the balloon, where civil society is kept out, where bankers, accountants and other facilitators, together with companies and wealthy individuals act as if the rules of society, the social pact, didn't exist; i.a. have created this safe haven from law and order.
What we should really be focusing on is that offshore isn't outside of our countries, it is right within, creating a space immune to all the things the social pact otherwise touches, the social pact of taxation, rule of law etc. And it hugely undermines financial stability… as we saw in 2008, not only in Iceland.
Luxembourg: at the heart of dirty deals and tax destruction
Omri Marian is an assistant professor of law at the Irvine School of Law, University of California. He has studied 172 of the tax contracts the Lux Leaks brought into the open. His very illuminating point is that at first glance the Luxembourg tax laws looks just as sophisticated as tax laws normally do in Western countries. However, there is simply no execution of this convincingly looking legal tax code.
It sounds insane but one person, a certain Marius Kohl, was in charge of agreeing to all the privately negotiated "advance tax agreement," effectively the tax for individual companies. The agreements, normally running to hundreds of pages, would often be signed off by the very hard-working Kohl on the day of application.
This reminded my of my experience with the Luxembourg financial regulator,Commission de Surveillance du Secteur Financier, CSSF. After the collapse of the Icelandic banks in October 2008 it slowly dawned on me that most of the banks' dirty deals, especially in Kaupthing and Landsbanki, had been run through their Luxembourg operations.
Yet, when I asked lawyers and accountants I was told that all was in good order in Luxembourg, they had strict laws regarding the financial sector; the CSSF was there to keep an eye on things.
Listening to Marian it dawned on me that yes, this is how Luxembourg does it: it pays lip service to European rules and regulation and what you normally expect from a Western democracy by having a legal code on tax and the finance sector. But that's all: the laws exist but only on paper – there is no execution to speak of.
Some years ago I visited the CSSF, got an audience with some six or seven people there. A very memorable meeting; we sat at the largest meeting table I have ever sat at; I on one side, the CSSF-ers on the other side. I told them what was slowly coming to light in Iceland: the alleged fraud and shenanigans, the loans with light covenants and little or no collaterals and guarantees, alleged market manipulations via the banks' proprietary trading and share parking in companies the banks finances etc. – so, weren't they going to look into the banks' operations. There were darting eyes and down-cast faces: no, no need to do anything, all in good order in Luxembourg. D'accord…
I intend to write further on the thoughts above – but suffice it to say that if the European Union is at all serious about acting on the offshorisation of the European economies it has to make sure that Luxembourg not only adorns itself with all the correct-looking legal codes but actually enforces it, i.a. by having the staff needed to do so.
*Nicholas Shaxson blogged today on the Tax Justice Network on these aspects of Luxembourg and quoted some of my earlier blogs on Luxembourg, i.a. my observations that Luxembourg attract financial companies because they know full well that Luxembourg is a safe haven… from regulatory scrutiny.
Twelve clients of Landsbanki Luxembourg have placed a complaint in a French court against the bank, now in administration, and its administrator Yvette Hamilius.
This is the culmination of a struggle over many years where a group of Landsbanki Luxembourg's clients, who took out equity release loans with the banks, have been claiming that in spite of overwhelming evidence, i.a. criminal charges in Iceland, about the bank's operations Hamilius has done nothing to investigate these matters. In addition, the clients claim she has harassed and intimidated them.
Further, not only has she taken no notice of charges brought in France last September by Justice Renaud van Ruymbeke against the bank, its directors and employees but has indeed chosen to discredit them publicly in Luxembourg media. As reported in the Luxembourg paper PaperJam, the complaints against Hamilius also concern money laundering since the charges in the van Ruymbeke case refer to fraud.
The saga of Landsbanki Luxembourg, its equity release loans, its other operations, the behaviour of the bank's administrator and the unwillingness of the Luxembourg financial regulator, Commission de Surveillance du Secteur Financier, CSSF, to investigate both the bank's operations and then the administrators  is a long and sad saga, which has often been brought up on Icelog (see earlier blogs here).
It can't be said often enough – and I say it yet again – that it is impossible to understand the operations of the Icelandic banks without scrutinising their Luxembourg operations. Given the fact that managers and employees of all the three largest Icelandic banks have been investigated in Iceland and in some cases sentenced to prison and given that almost without exemption Luxembourg figures in these cases it is incomprehensible that the CSSF has not taken up a single case related to these banks.
The CSSF has recently set up a new office to protect the interests of depositors and investors. This may sound like good news, given the tortuous path of the Landsbanki Luxembourg clients to having their case heard in Luxembourg; CSSF has so far been utterly unwilling to consider their case. Interestingly, it's the magistrate ruling on the Landsbanki administration Karin Guillaume who has been chosen to fill this post. As pointed out in PaperJam Guillaume has been under a barrage of criticism from the Landsbanki clients due to her handling of their case, which somewhat undermines the no doubt good intentions of the CSSF.
In addition, there is of course now the insight via the Panama leak into the operations of other banks in Luxembourg. When will the authorities in Luxembourg acknowledge that the many stories of financial malfeasance in the Duchy are a huge and ugly stain on this pretty little state at the heart of Europe? And when will other European countries bring enough pressure on the Duchy to confront the facts of the financial sector in Luxembourg: part of it is placed exactly there full well knowing that nothing seems sordid enough to wake the CSSF up to this disgraceful reality.
_________________________________________________________________________________
 28/09/2015
After a French investigation, Landsbanki Luxembourg managers and Björgólfur Guðmundsson, who together with his son Thor Björgólfsson was the bank's largest shareholder, are being charged in relation to the bank's equity release loans. These charges would never have been made except for the diligence of a group of borrowers. Intriguingly, authorities in Luxembourg have never acknowledged there was anything wrong with the bank's Luxembourg operations, have actively supported the bank's side and its administrator and shunned borrowers. The question is if the French case will have any impact on the Luxembourg authorities.
In the years up to the Icelandic banking collapse in October 2008, all the Icelandic banks had operations in Luxembourg. Via its Luxembourg subsidiary, Landsbanki entered a lucrative market, selling equity release loans to mostly elderly and retired clients, not in Luxembourg but in France and Spain (I have covered this case for a long time, see links to earlier posts here). Many other banks were doing the same, also out of Luxembourg. The same type of financial products had been offered in i.a. Britain in the 1980s but it all ended in tears and these loans have largely disappeared from the British market after UK rules were tightened.
In a nutshell, this double product, i.e. part loan part investment, was offered to people who were asset rich but cash poor as elderly people and pensioners can be. A loan was offered against a property; typically, 1/4 paid out in cash and the remainder invested with the promise that it would pay for the loan. As so often when a loan is sold with some sort of insurance it does not necessarily work out as promised (see my blog post on Austrian FX loans).
The question is if Landsbanki promised too much, promised a risk-free investment. Also, if it breached the outline of what sort of products it invested in when it invested in Landsbanki and Kaupthing bonds. This relates to what managers at Landsbanki did. In addition, the borrowers allege that the Landsbanki Luxembourg administrator ignored complaints made, mismanaged the investments made on behalf of the borrowers. Consequently, the complaints made by the borrowers refer both to events at Landsbanki, before the bank collapsed and to events after the collapse, i.e. the activities of the administrator.
The authorities in Luxembourg have shown a remarkable lack of interest in this case and certainly the borrowers have been utterly and completely shunned there. The most remarkable and incomprehensible move was when the Luxembourg state prosecutor, no less, Robert Biever Procureur Général d'Etat sided with the administrator as outlined here on Icelog. The prosecutor, without any investigation, doubted the motives of the borrowers, saying outright that they were simply trying to avoid to pay back their debt.
However, a French judge, Renaud van Ruymbeke, took on the case. Earlier, he had passed his findings on to a French prosecutor. He has now formally charged Landsbanki managers, i.a. Gunnar Thoroddsen and Björgólfur Guðmundsson. Guðmundsson is charged as he sat on the bank's board. He was the bank's largest shareholder, together with his son Thor Björgólfsson. The son, who runs his investments fund Novator from London, is no part in the Landsbanki Luxembourg case. In total, nine men are charged, in addition to Landsbanki Luxembourg.
According to the French charges, that I have seen, Thoroddsen and Guðmundsson are charged for having promised risk-free business and for being in breach of the following para of the French penal code:
"ARTICLE 313-1
(Ordinance no. 2000-916 of 19 September 2000 Article 3 Official Journal of 22 September 2000 in force 1 January 2002)
Fraudulent obtaining is the act of deceiving a natural or legal person by the use of a false name or a fictitious capacity, by the abuse of a genuine capacity, or by means of unlawful manoeuvres, thereby to lead such a person, to his prejudice or to the prejudice of a third party, to transfer funds, valuables or any property, to provide a service or to consent to an act incurring or discharging an obligation.
Fraudulent obtaining is punished by five years' imprisonment and a fine of €375,000.
ARTICLE 313-3
Attempt to commit the offences set out under this section of the present code is subject to the same penalties.
The provisions of article 311-12 are applicable to the misdemeanour of fraudulent obtaining.
ARTICLE 313-7
(Act no. 2001-504 of 12 June 2001 Article 21 Official Journal of 13 June 2001)
(Act no. 2003-239 of 18 March 2003 Art. 57 2° Official Journal of 19 March 2003)
Natural persons convicted of any of the offences provided for under articles 313-1, 313-2, 313-6 and 313-6-1 also incur the following additional penalties:
1° forfeiture of civic, civil and family rights, pursuant to the conditions set out under article 131-26;
2° prohibition, pursuant to the conditions set out under article 131-27, to hold public office or to undertake the social or professional activity in the course of which or on the occasion of the performance of which the offence was committed, for a maximum period of five years;
3° closure, for a maximum period of five years, of the business premises or of one or more of the premises of the enterprise used to carry out the criminal behaviour;
4° confiscation of the thing which was used or was intended for use in the commission of the offence or of the thing which is the product of it, with the exception of articles subject to restitution;
5° area banishment pursuant to the conditions set out under article 131-31;
6° prohibition to draw cheques, except those allowing the withdrawal of funds by the drawer from the drawee or certified cheques, for a maximum period of five years;
7° public display or dissemination of the decision in accordance with the conditions set out under article 131-35.
ARTICLE 313-8
(Act no. 2003-239 of 18 March 2003 Art. 57 3° Official Journal of 19 March 2003)
Natural persons convicted of any of the misdemeanours referred to under articles 313-1, 313-2, 313-6 and 313-6-1 also incur disqualification from public tenders for a maximum period of five years."
As far as I know the scale of this case makes it one of the largest fraud cases in France. As with the FX lending the fact that the alleged fraud was carried out in more than one country by non-domestic banks helps shelter the severity and the large amounts at stake.
Again, I can not stress strongly enough that I find it difficult to understand the stance taken by the Luxembourg authorities. After all, Landsbanki has been under investigation in Iceland, where managers have been charged i.a. for market manipulation. – Without the diligent attention by a group of Landsbanki Luxembourg borrowers this case would never have been brought to court. Sadly, it also shows that consumer protection does not work well at the European level.
On this page we will link you to the latest articles on Sigrúns blog related to the affairs of Landsbanki Lu.
____________________________________________________________
Sigrún Davíðsdóttir's Icelog 20/03/2015
Landsbanki Luxembourg liquidator ignores French investigation
As reported earlier on Icelog, the French investigative judge Renaud van Ruymbeke is conducting an investigation of Landsbanki Luxembourg activities in France regarding the bank's equity release loans. With the investigation ongoing it was assumed that the bank's liquidator Yvette Hamilius would suspend recovering assets by sending bailiffs to the bank's customers in France.
This however has not been the case as the Luxembourg Paperjam reports (yet again by Véronique Pujoul who has followed this case diligently) and Icelog has heard. Lawyers for the clients are now asking if this could be seen as both harassment from the administrator and also constitute a contempt of the French Courts with an ongoing investigation where charges have been brought.
Icelog has earlier reported extensively on this saddest part of the Icelandic banking collapse saga. What is truly shocking is the utter and complete disregard Luxembourg authorities have shown the clients who have at length described their dealings with the bank and administrator, i.a. conflicting messages from the administrator on outstanding debt. Part of the scheme were investments, which the clients have questioned as they got more understanding of them as well as being kept in the dark about the administrator's handling of the investments.
Instead, the Luxembourg state prosecutor has, without any investigation, placed himself firmly on the side of the administrator by claiming that the clients were only trying to evade paying back their loans. This behavior by a public prosecutor in a European country is utterly inconceivable.
Although investigations into the banks are ongoing in Iceland, with serious charges and severe prison sentences, Luxembourg has done nothing to investigate the Icelandic operations in Luxembourg, i.a. that of Landsbanki. Yet, the Icelandic investigations show that in many of the worst cases, such as in the so-called the al Thani case, the schemes were partly planned and carried out in the Icelandic banks in Luxembourg. In many cases, the alleged and proven criminal wrongdoings by the Icelandic banks could not have been done without their Luxembourg operations. Yet, Luxembourg ignores the banking problems in its own front yard.
_______________________________________________________________
February 12th 2015, JUSTICE IS AT LAST HAPPENING
http://uti.is/2015/02/supreme-court-rules-in-al-thani-case-imprisonment-confirmed/
"The results today that it is possible to bring complicated financial cases to court and get conviction," Ólafur Hauksson head of Office of the Special Prosecutor said toIcelog, now that the Supreme Court has ruled in one of the OSP's major cases, the al Thani case. "Building up the expertise has been a long process but the ruling today demonstrates that setting up an office, which didn't not exist earlier, was fully justified. No society can tolerate that certain parts of it are beyond law and justice."
Those four charged were Sigurður Einarsson chairman of Kaupthing board, Magnús Guðmundsson manager of Kaupthing Luxembourg, Kaupthing CEO Hreiðar Már Sigurðsson and Ólafur Ólafsson the bank's second largest shareholder. Reykjavík District Court had earlier ruled in the case where Einarsson was sentenced to 5 years in prison, Guðmundsson 3 years, Sigurðsson 5 1/2 years and Ólafsson 4 1/2 years. The Supreme Court has confirmed the ruling over Sigurðsson whereas Ólafsson has now been sentenced to 4 1/2 years, Einarsson to 4 years instead of 5 years and Guðmundsson to 4 years.
As detailed in an earlier Icelog the core of the al Thani case were loans to Ólafsson and Sheikh Mohammed bin Khalifa al Thani, a Qatari investor from the country's ruling family. It is important to notice that the issuing of these loans was the criminal deed in the case – the three Kaupthing managers broke law by doing it and Ólafsson was complicit in that criminal deed.
The story behind the case is that in in September 2008 Kaupthing made much fanfare of the fact that Sheikh al Thani bought 5.1% of Kaupthing's shares. The 5.1% stake in the bank made al Thani Kaupthing's third largest shareholder, after Olafsson who owned 9.88%. This number, 5.1%, was crucial, meaning that the investment had to be flagged – and would certainly be noticed. Einarsson, Sigurðsson and Ólafsson all appeared in the Icelandic media, underlining that the Qatari investment showed the bank's strong position and promising outlook.
What these three didn't tell was that Kaupthing lent the al Thani the money to buy the stake in Kaupthing – a well known pattern, not only in Kaupthing but in the other Icelandic banks as well. A few months later, stories appeared in the Icelandic media indicating that al Thani was not risking his own money. More was told in SIC report and the SIC recount indicated a fraudulent behaviour. The ruling today has confirmed the doubts, which have surrounded this investment from early on.
Although the case draws its name from Sheikh al Thani he has not been accused of any wrongdoing. He was one of the witness in the case, gave a statement over the phone.
As I have pointed out earlier there is an echo of this investment story in the ongoing investigation into Qatari and Middle East investment in Barclays, which saved the bank from seeking state support in autumn 2008.
The ruling in Iceland is i.a. in stark contrast to how Irish courts have tackled financial crimes related to the Irish collapsed banks. In April last year a court ruled that two former Anglo Irish managers, who had been convicted of issuing loans to prop up the bank's share price, should not be imprisoned in spite of being found guilty. The judge ruled it was unjust they should go to prison for a criminal deed because they believed they had acted lawfully. Sean FitzPatrick, the bank's former chairman, was cleared in this case. I find this Irish ruling truly incredible. This loan saga – loans to the so-called "Golden Circle" – has striking parallels in other Icelandic cases, which are being processed.
Icelandic law on financial fraud is in most respect similar to law on these issues in Northern Europe. There is nothing special about the Icelandic situation – except the will to carry out investigations and bringing cases to court. As Hauksson pointed out financial crimes need not be too complicated to be successfully prosecuted – and no part of society should be beyond the reach of the law.
____________________________________________________________
November 23rd 2014
http://uti.is/2014/11/three-ex-landsbanki-bankers-sentenced-in-market-manipulation-case/
Three ex-Landsbanki bankers have been sentenced (in Icelandic) at Reykjavík County Court in an extensive market manipulation case. The bankers were charged with manipulating Landsbanki share price almost a year up to the collapse of Landsbankinn October 7 2008. The action was judged to have influenced the share price of the bank, i.e. slowed its fall and prevented the shares falling in price. Consequently, price movements were not properly reflected and the share price appeared stronger than it would have been without the intervention.
Landsbanki ex-CEO Sigurjón Árnason was sentenced to a 12 months imprisonment, of which nine months are suspended. Two others, Júlíus Steinar Heiðarsson and Ívar Guðjónsson both working on the bank's proprietary trading desk, were sentenced to nine months imprisonment, six of which are suspended. The fourth charged, Sindri Sveinsson, was acquitted.
*The judgement is not yet on the Court's website but will be attached here when published. – Published here.
Updated: an addition now that I have read the judgment (Nov 23 2014):
The OSP brought the case following charges to the OSP made by the FME in October 2010. The original charges were against 18 ex-Landsbanki employees for market manipulation since May 2003 (nothing less) until the collapse of the bank in October 2008.
This means that according to the regulator, Landsbanki shares were actually manipulated for over five years.
In the end, the OSP charged 4 ex-Landsbanki managers for market manipulation from beginning of November 2007 until the last day Landsbanki shares were traded on the Icelandic Stock Exchange October 3 2008.
The sentences are far more lenient than the prosecutor had asked for. The judges (three in all) thought there were two mitigating circumstances: the deeds took place at a time of great turbulence in the markets and the bankers might be seen as having tried to save the bank (as they had claimed themselves) – and the deeds took place in 2008, i.e. a long time ago.
Re the first, buying the bank's shares and risking the bank's own capital is not the standard reaction (or even a creative one) in turbulent times and credit crunch.
Re the long time: financial crimes are rarely visible with bare eyes. Staff at the Icelandic Stock Exchange did indeed notice some of the actions taken and reported them to the FME, which resulted in an FME investigation and charges later on.
Interestingly, the day after the Landsbanki judgment three British businessmen were convicted for fraud in a case brought by the SFO. The fraud took place in 2007 and 2008, as in the Landsbanki case. The case was referred to the SFO, which opened an investigation in August 2009. One of those convicted is Chris Ronnie, known in Iceland as a client of Kaupthing.
____________________________________________________________
28th March 2014
Iceland pre-and post-collapse
Justice Renaud van Ruymbeke has today ruled in favour of former clients of Landsbanki Luxembourg, as already reported in Le Quotidien Luxembourg and the French La Tribune. Justice van Ruymbeke had previously charged three non-Icelandic former Landsbanki employees of fraud. Now he has ruled that Landsbanki Luxembourg cannot enforce collaterals placed against the equity release loans. If this turns out to be the end of the Landsbanki Luxembourg cases against those who placed French assets as collaterals this will surely be of huge interest to those with assets in Spain, where some former LL clients have managed to halt the enforcement by going to court.
The crux of the matter is that as some other foreign banks in Luxembourg Landsbanki used its Luxembourg operation to issue equity release loans, sold to clients in France and Spain on questionable grounds, where the client is effectively both a borrower and an investor: part of the loan is paid out in a lump sum, typically 20-25%, the rest was invested by the bank.
As Icelog has already written about several times there are grave questions unanswered regarding these loans: Icelog has seen documents that show there are good reasons to doubt the soundness of the issuance of the loans and of the investments done by Landsbanki Luxembourg before it collapsed. After the collapse the administrator has, contrary to i.a. Landsbanki administrators in Iceland, apparently been unwilling to scrutinise the Landsbanki Luxembourg operations although clients have come forward with well reasoned and well motivated arguments about the loans. In addition, information has been unclear, communication poor and clients have not been acknowledged as having been both debtors and investors.
An incredible part of this long saga is the fact that the Luxembourg state prosecutor issued a press release in favour of the administrator, without having at all investigated the matter. The fact that a state prosecutor can issue such statements is a scary indication of the state of justice in this tiny country that because of its monumentally, relative to population, big financial sector has become holden to the interests of this same sector.
The Landsbanki Luxembourg clients have been fighting a heroic battle. These loans were mostly sold to elderly people and sadly some of the clients have died during these years of battling an unyielding justice system in Luxembourg where even getting a lawyer in a case, non-favourable to the state and/or the financial sector, seems to be a hindrance to seeking justice. It therefore comes as no surprise that a step towards victory for the clients has been taken not in Luxembourg but abroad, in France.
____________________________________________________________
"… when it comes to unified European financial  sector it only works for banks, facilitating cross-border operations. For clients and consumer protection this sector has as many holes as a Swiss cheese. A food for thought: if cross-border operations only work for banks and not for clients they should not be allowed."
As often mentioned earlier on Icelog a group of Landsbanki Luxembourg clients have been trying to attract the attention of Luxembourg authorities as to the nature of the bank's operations and to the handling of the bank's administrator of their cases. Contrary to Icelandic authorities and the Landsbanki winding-up board, busy investigating the bank in Iceland and charging/suing its managers, Luxembourg – the tiny country dwarfed by its towering financial sector – has shown no appetite for any such undertaking.
Now there are two new and very different developments which might be of interest for the Landsbanki clients, all of whom are foreigners, mostly elderly people, with properties in France and Spain. Labour MP Huw Irranca-Davies has drawn attention to the Rotschild bank, which also sold equity release products, causing default and loss of property, to a similar group of clients. And creditors in the long failed Luxembourg bank, Bank of Credit and Commerce International, BCCI also, like the Landsbanki Luxembourg clients, think that Luxembourg authorities are difficult to deal with.
MP Irranca-Davies raised the equity release issue in a House of Commons debate and had some harsh words for the Rotschilds: "… you have badly deviated from your core values, badly served your brand and reputation, badly served people who regarded themselves as your clients – not the clients of some intermediaries as they claim – and who are now facing penury after investing in products which your name, Rothschilds, your integrity, your values were used as a key selling point."
Interestingly, conservative Treasure minister offered to raise the matter with counterparts in Spain and Guernsey. Should he do that someone should tell him not to leave out the Landsbanki Luxembourg cases since they also concern equity release loans.
One aspect of the equity release loans is that they have been sold by banks not operating in the country where the products have been sold. Rothschild, Landsbanki and several Scandinavian banks, all active in this business, sold the products to people in Spain and France, not from their operations there but from their Luxembourg operations. An interesting aspect, which has created a sort of vacuum around these operations: when the clients felt they had things to complain about Luxembourg authorities have not really listened as the products were not sold there; and authorities in France and Spain have so far not really taken the issue seriously since the banks were operating abroad.
This case has shown that when it comes to unified European financial  sector it only works for banks, facilitating cross-border operations. For clients and consumer protection this sector has as many holes as a Swiss cheese. A food for thought: if cross-border operations only work for banks and not for clients they should not be allowed.
For anyone following the world of finance for some decades BCCI is a familar name. The bank was operating – yes, in Luxembourg for two decades from the 1970s. Founded in Luxembourg in 1972 by a Pakistani financier, Agha Hasan Abedi, it eventually failed in 1991 after financial regulators in several countries feared it was badly regulated.
It took years to get the Luxembourgians to act but when they did it turned out that its operations were not only mundane lending and borrowing but money laundering and other criminal activities. One interesting aspect, in light of development in the three failed Icelandic banks is that the BCCI administrator, Deloitte, sued the bank's auditor, Ernst & Young. The case never came to court but was settled for $175m in 1998.
All of this has turned into a long saga, which quite remarkably is still ongoing. The latest is that some of its creditors are now fighting authorities in Luxembourg, claiming it is blocking money from creditors. Though the BCCI creditors certainly with deeper pockets than the Landsbanki clients, they are no less upset and do not intend to drop their case any time soon. One of them is dr. Adil Elias, whose story has earlier been told by the WSJ.
Quite intriguingly the two gropus – the Landsbanki Luxembourg victims and the BCCI creditors – have one  thing in common: both had cases ruled on right up to Christmas in Luxembourg and in both cases those complaining lost. Maybe a coincidence – or this is the time Luxembourg courts feel is the best time to rule on "unruly" bank clients ready to take on Luxembourg authorities.
____________________________________________________________
Iceland pre-and post-collapse
(French version in Francais section)
18/12/2013
Three Kaupthing bankers and the bank's second largest shareholder were recently sentenced to 3 to 5 1/2 years in prison for market manipulation and breach of fiduciary duty. The story behind the case is a share purchase in Kaupthing in September 2008. At the time, all four now convicted – then chairman of the board Sigurður Einarsson, CEO Hreiðar Már Sigurðsson, Kaupthing Luxembourg manager Magnús Guðmundsson and investor Ólafur Ólafsson – were interviewed in the Icelandic media where they underlined the strength of Kaupthing by pointing out that a Qatari investor, al Thani, had bought 5.1% in the bank.
What they failed to mention was that al Thani was not so much risking his own money as Kaupthing money: via an intricate scheme based on a few offshore companies the funds for the share acquisition came from Kaupthing itself. And where was the master plan carried out? In Luxembourg.
Kaupthing subsidiary in Luxembourg was at the centre of the al Thani saga. That was were the idea was brought into action, money into one vehicle and out into another. It is a well known fact in Iceland that most of the banks' most questionable deals were indeed carried out in Luxembourg. It is an intriguing thought that Luxembourg was time and again chosen at the preferred place for these deals.
In early 2011 I was in Luxembourg and had a meeting at the Luxembourg financial services authorities, Commission de Surveillance du Secteur Financier, CSSF.* I met with a few people in a meeting room. I was on one side of a huge table, four or five people on the other side. Already then it was clear that the Icelandic banks had been doing some rather "inventive" banking in Luxembourg. I presented some of the cases I knew of. On the other side of the table there were only expressionless faces and then I was told that rules and regulations were strict in Luxembourg. Nothing contrary to laws could take place in Luxembourg banks.
In the CSSF 2012 Annual Report its Director General Jean Guill writes:
During the year under review, the CSSF focused heavily on the importance of the professionalism, integrity and transparency of the financial players. It urged banks and investment firms to sign the ICMA Charter of Quality on the private portfolio management, so that clients of these institutions as well as their managers and employees realise that a Luxembourg financial professional cannot participate in doubtful matters, on behalf of its clients.  
"… cannot participate in doubtful matters…" – If only matters were that simple. Now four people have been sentenced to prison in Iceland for participating in doubtful matters that violate Icelandic laws, according to the Reykjavík District Court, but were carried out in Luxembourg, by using Luxembourg expertise and the so very favourable circumstances created in Luxembourg over decades.
A group of Landsbanki Luxembourg clients have for several years been trying to catch the attention of the Luxembourg authorities, a saga that Icelog has reported on time and again. This group had taken out equity release loans at Landsbanki. These clients have asked 1) serious questions about the dealings of Landsbanki Luxembourg before it went bankrupt – such as evaluation of property, calculations on loans breaching the collateral limit, investments related to the loans and how products were sold; 2) serious questions as to how the estate has been run, its misleading information or lack thereof, numbers that did not add up.
None of this has been addressed by the CSSF or other Luxembourg authorities so far. However, the Luxembourg paper Wort has reported that two cases related to Landsbanki Luxembourg are now being investigated, quoting minister of justice Octavie Modert. (*see the article at the end)
So far, and to great cost and immeasurable emotional distress the bank's clients – mostly elderly citizens living in France and Spain – have been left to battle on their own. In Luxembourg the State Prosecutor issued a press release in support of the Landsbanki Luxembourg administrator – unthinkable in most other European countries – thereby making it look as if the Landsbanki Luxembourg clients were trying to evade paying their debt. – Through court cases in Spain and France the group has made some advances but none of this is taken into any consideration at all in Luxembourg.
One client has shown me a set of calculations regarding one specific loan portfolio. Landsbanki Luxembourg, prior to its collapse, had claimed that this portfolio no longer covered the loan so the borrower was obliged to pay a certain amount in cash as a cover. As far as I could see, the number from the bank was wrong: the client was not in breach and should not have been obliged to pay. I could of course well be wrong. I sent this calculation to someone from Landsbanki Luxembourg with whom I had been in touch and whom I had told of this. I know for certain that this person got the calculation but I never heard back.
Only Luxembourg authorities can access documents regarding the operations of Landsbanki Luxembourg. Although the bank's managers have been charged with criminal offenses in Iceland (case pending but due in the new year) by the Icelandic Office of the Special Prosecutor as well as being sued in a civil case by the Landsbanki Winding-up Board for misleading reporting Luxembourg authorities have not been willing to listen to well-founded claims by the Landsbanki Luxembourg clients: unanswered questions about the Landsbanki Luxembourg operations before the bank's demise in October 2008 – as well as the administrator's operations.
Noticeably, an administrator has the duty to investigate operations, as indeed the Landsbanki Winding-up Board has done. The administrator, Yvette Hamilius and lawyers working for her, have stated in Luxembourg media that everything the administrator has done is according to the law.
In one case that the Landsbanki Luxembourg administrator took to court, the administrator caused delays of, in total, 200(!) days. And on it goes.
The fact that the numerous authorities in Luxembourg, such as the CSSF and the State Prosecutor have either ignored pleas from clients or outrightly sided with the administrator, without any chance of the claims actually being heard or looked at, shows a horrendous lack of care for clients and a sound protection for the financial industry. And everyone can pretend that it is, as Director General Guill points out: that professionalism and transparency is such in the financial sector in Luxembourg that financial players "cannot participate in doubtful matters."
One way to supervise financial institutions is by box-ticking: to look at each item in its narrow and isolated meaning, never look at connections or behaviour, never try to understand meaning and context. The institutions know this and prepare their material accordingly. Then there is little to fear. One reason why so little was seen and caught before 2008 was this attitude by regulators. Judging from the lack of interest in claims by Landsbanki Luxembourg clients this still seems to be the attitude among Luxembourg authorities. Authorities in Cyprus have announced that banks in Cyprus will be investigated, a little bit is being done in Ireland and the UK. When will Luxembourg follow suit? From anecdotal evidence there have been things going on in Luxembourg that merit investigations.
Here is the article from Wort:
BUSINESSPublished on 10.07.13 09:10
Landsbanki investigation making "great strides" in Luxembourg
A Luxembourg investigation into financial products sold by Icelandic bank Landsbanki before its collapse is making "great strides", according to Luxembourg's Justice Minister.
Responding to a parliamentary question by CSV MP Serge Wilmes, Ms Modert said that there were currently two cases, relating to different aspects of criminal conduct regarding the Icelandic banks were being treated by the Luxembourg authorities.
"In one case, the deciding judge is making great strides," she said, adding that in order not to jeopardize the investigation, the State Attorney was unable to provide further details on the results already achieved.
When Landsbanki collapsed in 2008, scores of investors involved in the Equity Release mortgage scheme obtained through the bank,  lost their homes and their livelihoods.
Their lawyers claim that the financial product was a scam and have attempted to dispute the decision of the Luxembourg liquidator to hear the case in court.
A 24-page report, released by the victims' legal representatives lawyers, Mr Benjamin Bodig of Diekirch and Me Bernard Maingain of Brussels, calls the case "the most important affair concerning banking delinquancy treated at a judicial level within the EU."
The report also includes a study commissioned from university professor Eric Briys, which suggests the scheme was not as transparent as it appeared. He wrote: "They presented ERP products in the innocuous form of investment savings tailored to the needs of the target audience. The aim was different: they ultimately wanted to capture the mortgage and securities portfolio to hedge receivables at the end of the operation."
Translated from an article by Thierry Labro
____________________________________________________________
http://uti.is/2013/07/investigations-in-luxembourg-into-the-operations-of-the-icelandic-banks/comment-page-1/#comment-22993
Yet again a good article from Sigrun with some interesting comments.
____________________________________________________________